We provide school, camp, and sports physicals for children ages 6 and up. Many children require physicals for enrollment in public or private schools, admission today or sleep-away camps, and for participation in school or club sports teams.
CAMP, SCHOOL,
AND SPORTS PHYSICALS
Your child's physical is conducted by a licensed our family practitioner and includes:
• A thorough and complete medical history
• A full physical examination of all body systems
• Education for parents and children on common signs of concussion
• Guidance on necessary immunizations
• Completion of forms needed for sports, camp, or school participation
(forms must be provided by the child's parent or guardian)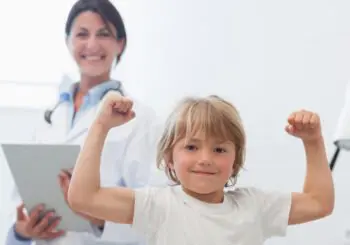 Your child's doctor can also provide information about what, if any, modifications should be made to their nutrition, sleep, and exercise regimens, to ensure they continue to maintain good health as they grow. For children who play sports, an annual physical is a good opportunity to discuss how to prevent and treat common sports injuries (including stretches and other warm-ups) and what healthy snacks to eat to maintain their energy during sports season. Your child's doctor can provide guidance on these and other health issues and provide recommendations for resources which can help you keep your child safe and healthy.
Our FAMILY WELLNESS PROGRAM was designed specifically for individuals who want to commit to a wellness program and healthier lifestyle that is designed to keep you, your family healthy using preventative medicine as a catalyst to reach health goals.
We make staying healthy easy with flexible hours, multiple providers and service to help maintain a healthy mind, body and soul. While you are a patient at Costal Med Urgent Care you have the support of the doctors, medical assistants and staff members. We are here to assist on the journey to optimal wellness.
The FAMILY WELLNESS PROGRAM is a monthly membership that will help keep everyone important in your life healthy.
Ask us how to get started today!
MENINGOCOCCAL (MENINGITIS) One type of MCV4, Menveo, is licensed for use in people aged 2 to 55. Another version, Menactra, is approved for those 9 months to 55 years old. MPSV4 is the only vaccine licensed for use in people over 55 as well as people 2 to 55. Both vaccines protect against four types of meningococcal disease.
HUMAN PAPILLOMAVIRUS (HPV) Human papillomavirus (HPV) vaccine protects against cancers caused by HPV infection. … HPV infection can cause cervical, vaginal, and vulvar cancers in women and penile cancer in men. HPV can also cause anal cancer, cancer of the back of the throat (oropharynx), and genital warts in both men and women.
TETANUS/DIPHTHERIA/PERTUSSIS (TDAP) Tdap is a combination vaccine that protects against three potentially life-threatening bacterial diseases: tetanus, diphtheria, and pertussis (whooping cough). Td is a booster vaccine for tetanus and diphtheria. It does not protect against pertussis.
MEASLES/MUMPS/RUBELLA (MMR) CDC recommends all children get two doses of MMR (measles-mumps-rubella) vaccine, starting with the first dose at 12 through 15 months of age, and the second dose at 4 through 6 years of age
VARICELLA (CHICKENPOX) Varicella vaccine, also known as chickenpox vaccine, is a vaccine that protects against chickenpox. One dose of vaccine prevents 95% of moderate disease and 100% of severe disease. … Either one or two doses of the vaccine is recommended.
AT COASTAL MED URGENT CARE
WE OFFER ADDITIONAL ON-SITE SERVICES SUCH AS LABS & TESTING SERVICES, ON-SITE DISPENSARY, WEIGHT LOSS MANAGEMENT, SCHOOL & SPORT PHYSICALS, ALL ENHANCED WITH OUR TELEMEDICINE SERVICE.
FEATURED SERVICES OFFERED