HEARTBURN, INDIGESTION AND SYMPTOMS
Indigestion is often a sign of an underlying problem, such as gastroesophageal reflux disease (GERD), ulcers, or gallbladder disease, rather than a condition of its own. Any treatment you get will depend on what the cause is.
SYMPTOMS YOU MIGHT HAVE
Bloating
Belching and gas
Nausea and vomiting
An acidic taste in your mouth
Fullness during or after a meal
Growling stomach
Burning in your stomach or upper belly
Belly pain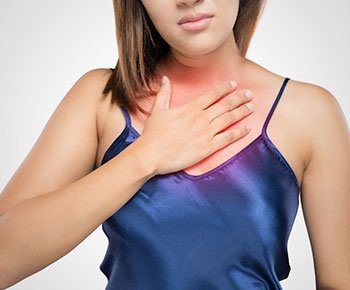 CAUSES MAY BE THE RESULT FOR THE BELOW CONDITIONS:
Aspirin and many other pain relievers
Estrogen and birth control pills
Steroid medications
Some antibiotics
Thyroid medicines
Ulcers
GERD
Stomach cancer. This is rare.
Stomach infections
Irritable bowel syndrome
Pancreatitis, an inflamed pancreas
Thyroid disease
Gastroparesis, a condition where the stomach doesn't empty properly. It often happens to people with diabetes.
Eating too much, too fast, or when you're stressed. High-fat foods can also add to the problem.
Drinking too much alcohol
Smoking
Stress and fatigue
If you are experiencing Heartburn & Indigestion, we recommend a visit to our clinic so we may determine the cause of your symptoms.
AT COASTAL MED URGENT CARE
WE OFFER ADDITIONAL ON-SITE SERVICES SUCH AS LABS & TESTING SERVICES, ON-SITE DISPENSARY, WEIGHT LOSS MANAGEMENT, SCHOOL & SPORT PHYSICALS, ALL ENHANCED WITH OUR TELEMEDICINE SERVICE.
FEATURED SERVICES OFFERED